Poole Twin Sails Bridge work stopped over asbestos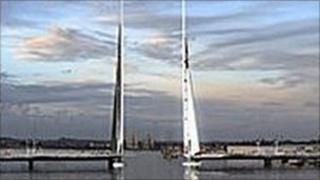 Asbestos found on the site of a new £37m bridge project in Dorset has halted part of the work.
The Twin Sails Bridge in Poole Harbour will connect Hamworthy with Poole Port and is due to open in 2012.
Excavation work on the site of a former power station uncovered contaminated items buried in the ground.
Tests showed the materials, to be removed in the coming days, did not pose a risk. Other work away from the site is continuing.
The authority said it did not expect the discovery to "adversely effect" the completion of the project.
'Not uncommon'
Jim Bright, from Poole Borough Council, said: "We would like to reassure people that there is no health risk and arrangements are already in place for the safe removal and disposal of this material away from the site.
"As soon as the material was identified, [we]... acted immediately to contain the area and allow testing to be carried out.
"Materials of this type are not uncommon on former industrial sites and we do not expect this discovery to adversely affect the progress on construction of the bridge."
The bridge will provide access to 64 acres (26ha) of brownfield land where 2,000 new homes are planned over the next 10 years.
The local authority predicts the bridge and associated development could create up to 5,000 jobs.