Chideock village traffic protest suspended after talks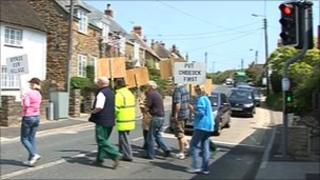 A Dorset pensioner has called off his protest over lorries driving through a village after holding talks with police and the highways authority.
Tony Fuller, 77, and his neighbours repeatedly activated a pelican crossing on the A35 in Chideock to hold up traffic on 17, 18 and 21 May.
The protesters want a bypass to be built around the village.
Mr Fuller said measures, including speed checks, were to be implemented by police following a meeting on Friday.
During the protests, campaigners held up traffic by making sure the pelican crossing was in constant use.
As a result of their action, traffic on the A35, the main road between Bournemouth and Exeter, backed up within minutes.
Mr Fuller has said the roads were too narrow and he wanted heavy lorries to be diverted.