Osmington White Horse restoration work starts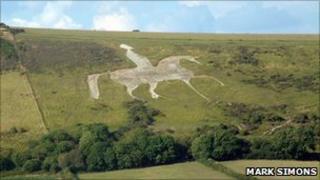 Work is due to begin to restore the 200-year-old Osmington White Horse monument in Dorset.
The 260ft (79m) figure, which overlooks Weymouth Bay, was carved into the hills in the early 19th Century.
However, an attempt by BBC TV show Challenge Anneka in 1989 to revamp the figure failed as restoration work deteriorated afterwards.
Work will start to remove the Portland limestone chippings covering the monument, which have slipped over time.
Volunteers will be on hand to help the first phase of restoration work of the monument, which was created in honour of George III, a frequent visitor to the town on his favourite grey charger.
It was created by local people in 1808 by removing the topsoil to reveal the bedrock of the South Dorset Ridgeway underneath.
'Wrong ingredients'
The monument underwent a make over during the TV challenge in 1989 when the presenter gathered a group of locals to lay white stone chippings.
However, a short time later they started falling down the hill leaving bare patches.
Earlier this year Ms Rice apologised and offered to help repair the landmark herself.
She told the BBC: "It is just terribly sad and I am so sorry that we were obviously given all the wrong ingredients and advice."
The restoration follows a year of research by the Osmington White Horse Restoration Group into how the White Horse has changed over time, however historical accounts differ on whether the horse was ever a perfect white.
The monument will be seen around the world during the 2012 Olympics, when Weymouth and Portland host the sailing events.
Steve Wallis, senior archaeologist at Dorset County Council, said: "The first part of the project has been gaining an understanding the original shape of the figure and how and why it has changed.
"We now want to restore the White Horse in all its glory to as near as possible to how it once was."