Anger at Olympic homes on Portland sports field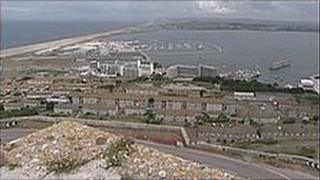 Portland residents are angry that Olympic housing has been built on a sports field.
Weymouth and Portland will host the sailing events at the 2012 Olympics.
The original plan to house athletes on a cruise ship moored at Weymouth Bay was dropped in favour of a housing development on Officer's Field.
The field was part of the naval base HMS Osprey until 1998 and is the only flat recreational ground in the Underhill area of Portland.
Olympics organisers said the athletes' village would be available for social housing after the games.
'Continued legacy'
Councillor Tim Munro is in charge of environment and sustainability at Weymouth and Portland Borough Council and has been speaking on behalf of the residents.
He said: "Seventy-seven houses have been put on a plot that should have been retained for sporting use."
The Olympic village at Osprey Quay was the first site for the 2012 Games to be completed and will host up to 400 international athletes.
Mr Munro continued: "The ironic thing is... elite athletes are going to be living on what should have been a continued legacy for the people of Underhill.
"I just hope that this village... is not going to be surrounded by a 12ft fence to totally separate the athletes from the local community."
'Affordable housing'
The London Organising Committee of the Olympic and Paralympic Games (LOCOG) is responsible for preparing and staging the 2012 Games.
James Bulley from LOCOG explained why they had chosen this site.
He said: "It's an ideal location for the sailing venue. From an athlete's point of view they don't have far to travel between their accommodation and the competition itself.
"And it was ideally suited to us in terms of both the size of the facility and the services it could provide."
He added that after the Olympics the village would be made available for the local community as "affordable housing and private sector purchased housing".