Disqualified driver who left biker paralysed jailed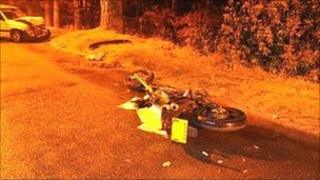 A disqualified driver who was involved in a crash which left a motorcyclist paralysed for the rest of his life has been jailed for three-and-a-half years.
David Whittaker was driving a Peugeot van which collided with a motorbike and then failed to stop on Sandford Road in Wareham, Dorset, on 23 October 2009.
He pleaded guilty to driving while disqualified, aggravated vehicle-taking, and inflicting GBH earlier.
Whittaker, 39, of Wareham, was also given a six-year driving ban.
He was sentenced at Bournemouth Crown Court on Wednesday.
The motorcyclist suffered life-threatening injuries and is still in hospital, police said.
Sgt Tony Burden, from Dorset Police's traffic unit, said: "This was a horrific road traffic collision which left a man with dreadful injuries.
"The impact of these are life changing and will affect him and his family for the rest of his life.
"This incident shows the devastating effects drink driving can have and why it is so important that we detect those offences that contribute to collisions."