Dorset hospital defends £2,557 a day for interim boss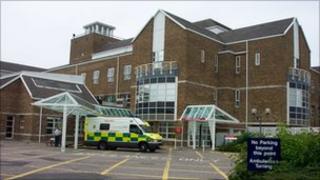 A hospital trust has defended paying its interim chief executive £2,557 a day while trying to save £20m.
Dorset County Hospital Trust's annual report showed Derek Smith was paid £248,041 for 97 days work plus £19,539 in travel and food expenses.
Public sector union Unison said staff at the hospital would "be shocked".
Trust chairman Dr Jeffrey Ellwood said a predicted budget deficit of £17m for 2011/12 had been reduced to "break even" since Mr Smith's appointment.
Dr Ellwood said this put the spending "into context".
The trust also spent £1,230 a day on interim "turnaround director" James Shillito for 90 days work, with £8,802 in expenses on top.
Interim director of finance Terry Tonks cost £1,194 a day for 158 days work, with an extra £16,755 in expenses.
Meanwhile interim director of human resources Tracey Peters was paid £663 a day for 174 days work, with an extra £4,040 expenses.
Tanya Palmer, regional head of health at Unison, said: "The idea that you pay a manager £2,557 a day when the hospital is desperate to save money is ludicrous.
"And claiming on an extra £20,000 in expenses is adding insult to injury.
"Most nurses earn around £1,800 a month after tax and to see someone earning hundreds of pounds more than that for just one day will be galling."
Mr Smith received his money for three or four days work a week from 1 September 2009 to 31 March 2010, the end of the financial year.
The report was presented to the NHS trust's board, which was told £20m of savings needed to be made over three years to bring the hospital's finances back into surplus.
Dr Ellwood said: "We needed to recruit a strong team following the departure of key members of the board.
Job cuts shelved
"We were facing a £7.4m deficit [for 2009/10] and had no credible recovery plan in place.
"In that position it would have been extremely difficult to recruit a permanent chief executive or finance director, so we took the decision to appoint a team of experienced interims with proven track records in turning around organisations in financial difficulties.
"Together these appointments cost the trust £647,000."
He said the trust spent £315,000 more than if permanent executives had been in place during the same period.
Plans to axe up to 200 staff at the hospital were shelved in February.
Mr Smith said at the time that the hospital's efficiency savings "no longer depend on making any major staff reductions through redundancies".