Speed camera in Dorset could be axed after budget cuts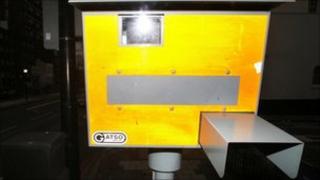 Transport chiefs in Dorset have said they cannot rule out scrapping speed cameras after budget cuts.
The county's road safety partnership has admitted it cannot afford new cameras this year or maintain current ones if they need repairing.
Its budget has been reduced by more than £1m after councils passed on a 40% government cut in road safety funding.
The partnership said it is looking at what savings can be made but said it cannot rule anything out.
It comes after Oxfordshire County Council voted to axe its cameras on Tuesday.
'Reducing deaths'
Councillor Peter Finney, transport chief at Dorset County Council, said: "This is the money we get directly from government and we cannot ask rate payers to fork out money to keep the partnership going.
"What we have to say to the partnership is that 'we are very sorry but we have to correspondingly reduce our funding to you'.
"They will have to determine how they will operate with the budget they have."
Despite the government advising councils not to pass budget cuts directly on to road safety programmes, Dorset County Council, Bournemouth council and Poole council (Dorset's highways authorities) all approved the move.
It also comes despite the authorities stating that they still back the role speed cameras play in road safety.
Dorset Safety Camera Partnership said it will identify savings but cannot rule out turning off cameras.
Johnny Stephens, from the partnership, said: "Despite cuts in funding, [we] are pleased that the three local authorities remain supportive of the positive contribution the partnership has made in reducing the numbers of people killed and injured on our roads."
In July last year, Swindon Borough Council became the first English local authority to abandon speed cameras, but Wiltshire Police vowed to continue using mobile cameras.