Fury over four planned wind turbines near Gillingham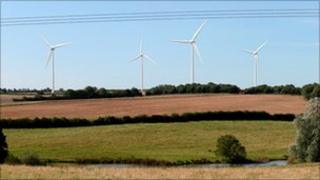 A new campaign has been launched against a proposal to build wind turbines near Gillingham.
Two years ago 1,987 people wrote to the council to object to plans to put six 394ft (120m) high turbines in Silton.
Developers Ecotricity have now revised the plans and propose four, which village group Save Our Silton (SOS) says will "ruin the landscape".
Ecotricty says Dorset is completely reliant on other counties for power and needs to establish its own.
If built, the turbines will be the tallest man-made structures in Dorset.
Chris Langham, SOS chairman, said: "It's like David and Goliath - the Rematch. We hoped that Ecotricity would accept that Silton is simply not a suitable place to put monstrous wind turbines.
"They would dominate the area... ruin the landscape... spoil the lives of local people [and] they would harm the local economy by driving tourists away."
'Clean electricity'
Mike Cheshire, spokesperson for Ecotricity, said: "Our months of environmental studies and 15 years of wind speed data from various sources show that this is a good site for wind energy.
"[It] will generate clean electricity for more than 6,200 homes and stop 8,800 tonnes of CO2 going into our atmosphere every year for its 25-year life - that has to be a good thing.
"Dorset is one of the only counties in England almost completely reliant on other areas of the UK for its electricity, so desperately needs more secure sources of energy of its own.
"There's also plenty of evidence that windmills attract tourists, not drive them away. Our own at Swaffam in Norfolk has a viewing platform and has attracted over 40,000 people since it opened."
Objections to the wind turbines at Silton must be received by North Dorset District Council by 23 August. SOS has asked for this to be extended.