Passengers rescued as pleasure-boat grounds off Dorset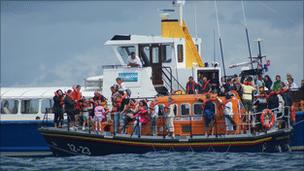 Thirty-seven people have been rescued from a pleasure-boat after it ran aground off the Dorset coast.
The Solent Scene got into difficulties just north of Old Harry Rocks off Swanage at about 1200 BST.
Two RNLI lifeboats were launched within five minutes of the call-out and all passengers were safely transferred on to one of the rescue boats.
There were no reports of injuries and the passengers were brought back to shore.
The boat was refloated as the tide comes in.
An RNLI spokesman said: "Fortunately everyone was relatively calm as the weather was good.
"We don't know why the boat has grounded, but it is very rare because the crews for these types of vessels are usually very experienced and do the same route maybe four of five times a day."
The Bournemouth Belle boat was used to ferry the passengers from the stricken vessel back to shore.
Related Internet Links
The BBC is not responsible for the content of external sites.