New heliport opens on Portland for 2012 Olympics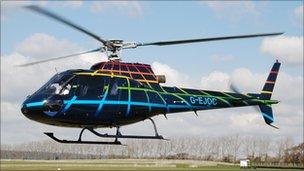 A temporary heliport facility has opened on Portland to support the 2012 Olympic and Paralympic Games.
The heliport at Southwell Business Park is being used for the 2010 Skandia Sail for Gold Regatta at Weymouth and Portland Sailing Academy.
It will also open during the summer seasons of 2011 and 2012.
During the run up to and for the duration of the games flights will be open to officials, sponsors, teams, media groups and visitors.
As well as charter and sightseeing flights, journeys will also operate direct to Portland from London, with an air taxi shuttle service from selected locations to the north of Weymouth.
It is hoped this will assist with road congestion.
Glenn Curtis, from Elite Helicopters which is working in partnership with Compass Point Estates on this venture, said: "We operate a wide range of Helicopter types on our commercial operations including the single engine Robinson R44, Bell JetRanger and LongRanger and AS350 Squirrel.
"[These] are ideal for passenger transfers and filming and photographic flights.
"We also operate the twin engine Agusta A109 Power and Grand VIP configured helicopters."
The facility will also be available for other helicopter operators and private owners.
According to Elite Helicopters if the heliport and its services prove successful "it may be used beyond the 2012 Olympics".
Related Internet Links
The BBC is not responsible for the content of external sites.