Boscombe surf reef will not be dismantled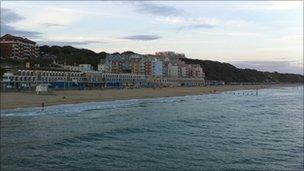 Europe's first artificial surf reef in Dorset will not be dismantled as part of plans to improve its performance.
The £3m structure, in Boscombe, opened in November at more than double the original cost and after several delays.
The surf reef task and finish group met on Tuesday at Bournemouth council to discuss ways to find an "affordable solution" to improve its performance.
It was deemed "sub-standard" by the council after a report found it had not achieved all of its objectives.
The council agreed to seek ways to deliver a more surfable wave but ruled out deconstruction.
The reef was created to improve surfing conditions using 55 sand-filled bags which are 225m (740ft) out to sea.
It was part of the overall redevelopment of Boscombe's seafront, which has attracted a host of new businesses and apartments.
New Zealand-based developer ASR was at the meeting to answer questions and present initial plans for improvement.
These will be shared with figures from the local surfing world and Plymouth University, which carried out an independent study into the quality of the waves.
The task group was set up last month to see whether cost-effective improvements to the artificial surf reef should be made.
Recommendations are due to be made to the council in October.
The council withheld a £150,000 payment from ASR until it was satisfied that the reef worked.
ASR has denied the reef has failed and said it was only one of the criteria - the wave lengths - which it had not met.
But it said it would work with the council to make "enhancements to the reef".
Related Internet Links
The BBC is not responsible for the content of external sites.