Southampton FC photo ban evaded with 1987 pictures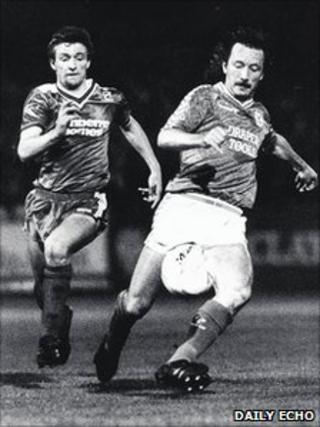 A second newspaper has reacted to Southampton FC's ban on photographers by printing pictures of a match dating back to 1987.
AFC Bournemouth were beaten 2-0 by the Saints at St Mary's stadium on Tuesday.
But the Bournemouth Echo printed shots from the teams' last two clashes in 1987 because Southampton have banned non club photographers from the stadium.
The club said the ban was to protect its commercial revenues.
It uses an official photographer to cover games and photographs are then sold to news outlets.
The Bournemouth Echo's photographs feature former Southampton players such as Jimmy Case, Glenn Cockerill and Kevin Moore and Bournemouth's Mark O'Connor and Trevor Aylott.
Editor Neal Butterworth said: "This is a ridiculous situation that Southampton have created for themselves, but it's basically testing our creativity.
'Absolutely crackers'
"None of the other newspapers are paying for(the photographs) so it's a waste of time.
"This is a battle which I think the press for once will probably win."
Earlier this week the Plymouth Herald hired local artist Chris Robinson to capture the winning goal for Plymouth Argyle after refusing to pay for official photographs of the game.
Mr Robinson's images were inspired by the football cartoon strip Roy of the Rovers.
The move to restrict access for photographers has drawn anger from the newspaper industry, with the Society of Editors describing the decision as "absolutely crackers".