Lead theft causes Wareham centre's roof to collapse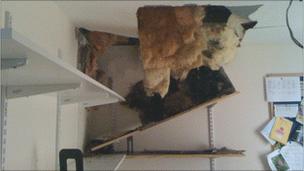 The roof of a children's centre has collapsed after it was targeted three times in a week by lead thieves.
Equipment was also damaged inside Wareham Children's Centre in Streche Road. It is said to be unsafe for families to use during the summer holidays and has closed.
Deputy manager Collete Ford said the thefts had upset staff and new mothers who relied on the centre's services.
Dorset Police are investigating the thefts which happened last week.
Plans have been put in place by Dorset county council for all groups to be moved out until September.
Ms Ford said: "It's not a safe or healthy environment to have mums and babies in.
"But we have taken our activities out in the community using health centres, the local church hall and Wrexham Park to continue our activities.
"It's been very disheartening because we were finally seeing light at the end of the tunnel pulling everything together for Ofsted and getting services up and running."
The damage is estimated to have cost thousands of pounds after rain started to seep through the ceiling, damaging plasterboard and carpets.
Sgt Emma Swann, of Wareham police, said: "Sadly, recent rain has caused the centre's exposed roof to collapse and the damage has forced the centre to close.
"This is understandably very upsetting for staff and the local community and it will clearly cost a great deal to repair the damage."
Related Internet Links
The BBC is not responsible for the content of external sites.