Votes on Olympic roundabout names in Weymouth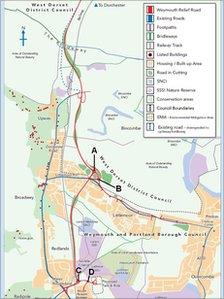 Local residents are being asked to pick names for four new roundabouts being built as part of an £87m relief road ahead of the 2012 Olympics.
The Weymouth Relief Road will improve traffic links between Dorchester and Weymouth, which are hosting the Olympic sailing events with Portland.
It is scheduled to open in 2011 but may be ready by late 2010.
School children and council staff have produced a shortlist of 70 names, which people can vote online for.
Two of the new roundabouts are in the Littlemoor area and two at the southern end of the road near Morrisons supermarket.
Peter Finney, Dorset County Council cabinet member for transport, said: "Since construction began, the roundabouts have been referred to using their location and normally construction engineers name a roundabout based on where it is or something near by, which can lead to some rather dull names.
"Weymouth is rich in history and has the best in both sea and countryside, including being on the Jurassic Coast and being surrounding by an Area of Outstanding Natural Beauty.
"We wanted these, plus the amazing archaeological and geological finds from the road building itself, to inspire local people to choose their favourite name from the shortlists."
The closing date for votes is midnight on 23 August.
Related Internet Links
The BBC is not responsible for the content of external sites.