Boscombe Pier surfers' memorial bench unveiled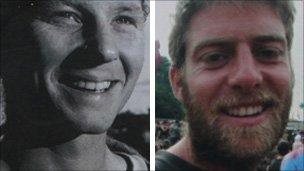 A memorial bench on Boscombe Pier to remember four surfers who died between 2005 and 2009 has been unveiled.
The bench, overlooking the artificial surf reef in Bournemouth, includes four individual plaques, one for each of the local men.
They were James Foy, 29, from Bournemouth, Pete Happe, 31, and Lewis Dunton, 34, both from Southbourne, and Simon Smith, 38, from Wareham.
The father of Mr Dunton said the bench was a "fitting tribute" to the men.
Joe Dunton said: "The bench means a fantastic amount to us. It gives us a focal point where we can remember our loved ones and look out on to an area where they spent so much of their happy life."
A ceremony was led by the children of Mr Happe, who died in a motorbike accident in 2008.
They cut the ribbon while watched by friends and relatives of the men.
Members of the local surfing community raised the money for the bench.
Although the surfers did not lose their lives on the waves, friend and fellow surfer Gary Knights, who organised the fundraising, wanted there to be a lasting legacy in Boscombe where the men spent a lot of their time.
Mr Foy fell down a flight of stairs and died of his head injuries in 2005 and Mr Smith died suddenly in 2006.
Mr Dunton, father of Lewis Dunton who died of carbon monoxide poisoning in 2005 while on a surfing trip to Morocco, believed his son would have been "very touched" by the bench.
He said: "Lewis would have enjoyed the thought that people other than his family would remember him, but I think he would know that would have been the case.
"He was a brilliant boy. We loved him dearly and we miss him tremendously. I'm sure that goes for the other families too.
"My wife and I will come to the bench and hold hands and think about Lewis a lot."
Related Internet Links
The BBC is not responsible for the content of external sites.