A35 Chideock pelican crossing protest to restart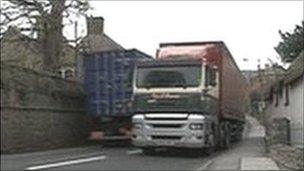 A protest where a pelican crossing is repeatedly activated so traffic lights consistently turn red in a Dorset village is to restart.
Campaigners began protests on the A35 in Chideock, near Bridport, earlier this year over the number of lorries driving through the village.
They are campaigning for a bypass to be built around the village.
The protests had stopped but residents said they wanted more action and would restart their action this week.
A meeting between the villagers and officials was held in July and residents were recently given hand-held speed cameras to monitor traffic.
Dorset Police has warned of delays as the campaigners restart their action and said officers would be present to ensure there were no breaches of the peace or risk to the safety of drivers, cyclists or pedestrians.
Insp Caroline Naughton said: "The issues raised by the A35 Action Group are being addressed.
"I have outlined my concerns to the group over the impact that this protest will have on congestion and access along the A35 by all road users including the emergency services, and the impact on the local community, however they have decided to continue with their course of action."
The A35 is the main coastal road between Bournemouth and Exeter. It passes through several villages.
Related Internet Links
The BBC is not responsible for the content of external sites.