Poole council painted dog mess trial 'working'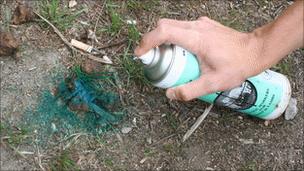 A council has said a trial where piles of dog mess were spray-painted bright green to shock owners into picking up their waste has had a positive impact.
Poole council took the action last week after about 200 piles were found in an alley near Poole High School.
Workers painted any left on the verge and removed them on Wednesday.
The idea was branded "bizarre" by an opposition councillor but the authority said the early signs showed less waste had been left during the week.
A spokeswoman said there were also plans to install dog waste bins.
She added: "It is too soon to show whether it has been a success, and there has been some fresh dog mess left, but it does seem to be less than usual.
"We will monitor the situation and we are looking at placing dog bins down there if there is evidence that the expense will be worth it."
The Conservative-controlled council said it hoped the paint would show the scale of the problem to dog owners after previous efforts to stop the problem failed.
The authority said it does its best to catch those responsible, but it is difficult to catch them in the act.
Opposition councillor Brian Clements said previously that painting the mess was a "bizarre thing to do".
He said council workers should be spending the time finding these people not "painting piles of dog poo".
People who do not clean up after their dog can be given a £50 fine.
If they refuse to pay, they can be prosecuted and may face a court appearance with a maximum penalty of a £1,000 fine.
Related Internet Links
The BBC is not responsible for the content of external sites.