Bournemouth council reviews policy after 'porn case'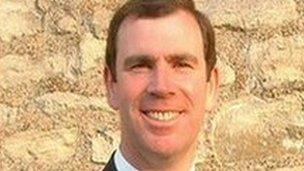 A Dorset council that spent more than £17,000 on an inquiry after pornography was found on its leader's laptop is to review its investigation policy.
The images were found on Bournemouth councillor Stephen MacLoughlin's work computer during a routine IT service in December 2008.
An inquiry which led to no further action being taken against him cost £17,522, the council confirmed.
It said it would review how alleged member misconduct is investigated.
Mr MacLoughlin resigned as leader in July. He said he took the decision to "draw a line" under recent events.
A council spokeswoman confirmed the cost of the inquiry included nearly £9,000 spent on an independent investigator, £3,000 for legal advice fees and £5,580 for a deputy monitoring officer's time.
Councillor Peter Charon, the newly elected leader of the council and of the Conservative group, said: "The council's reputation has suffered, and our residents, staff and councillors have every right to know how decisions were made, by whom and why.
"The audit and governance committee will be asked to make recommendations that ensure the council has clear written protocols and procedures in place to deal with any potential member conduct issues so that, in future, people know what to do, who should do it, how and when."
Following the inquiry Mr MacLoughlin also faced a public hearing, where a panel ruled he was not acting in an official capacity at the time the pornography was accessed.
The council said the material on Mr MacLoughlin's laptop contravened its internet policy but he had co-operated with the internal inquiry and agreed to comply with the council's internet policy in future.
The decision prompted accusations of double standards, after employees were placed on leave in March 2009 for sending an explicit "joke" e-mail about Viagra.
At the time, the council said the procedure for dealing with a council member was different to that for a staff member.
Related Internet Links
The BBC is not responsible for the content of external sites.