Weather affects last day of Bournemouth Air Show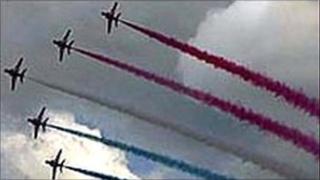 About 250,000 people attended the third day of this year's annual Bournemouth Air Show, organisers said.
Low cloud led to the number of flying displays being reduced to a Black Cat helicopter and a beach assault by the Royal Marines on Saturday.
But seven displays went ahead including the Breitling Wingwalkers before all the remaining flights were cancelled because of the poor weather on Sunday.
Last year the four-day event, now in its fourth year, attracted 1.3 million.