Bournemouth soldier killed by IED, inquest hears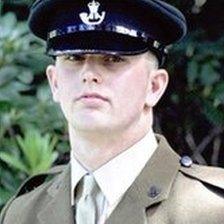 A soldier was killed by an Improvised Explosive Device (IED) in Afghanistan as he tried to clear a passage for a sniper, an inquest heard.
Rifleman Jonathon Allott, 19, from 3 Rifles, died from his wounds following the blast near Sangin on 5 March.
His mother told the hearing that he was supposed to be phoning home that day but the call never came.
The inquest ruled that the soldier, who was born in North Shields but lived in Bournemouth, was unlawfully killed.
The hearing in Bournemouth heard that Rifleman Allott's platoon was working in three sections to secure vulnerable positions along a main road along which the sniper was to be positioned.
He had spotted a wire leading into an alleyway near to a mosque, believed to be a command wire for an IED.
Section commander Corporal Liam Raine said that as he was in the process of ordering the withdrawal, the IED went off.
Rifleman George Milner said: "It looked to me like he was stood right on the device because he was blown off his feet.
"There was smoke and dust for only a couple of seconds and I ran across to him."
Rifleman Allott was badly wounded and was evacuated by helicopter to Camp Bastion where unsuccessful efforts were made to save his life, the hearing heard.
Platoon commander Lieutenant Daniel Brown explained that the person controlling the device would be out of sight about 100m (328ft) away and would use lookouts to signal when to set the explosive off.
Rifleman Allott joined the Army in 2008 and was deployed to Sangin in September 2009.
Sheriff Payne, coroner for Bournemouth, said: "He is sadly another soldier who has died trying to protect the interests of the majority of Afghanistan.
"It's a source of great sadness, not only to his family but to everybody, that another life has been lost in this manner."
The soldier's family said in a statement released after his death: "Jonathon Michael Allott (Jonny) died a hero doing the job he loved - he will be sorely missed by the whole family and all who knew him."
Related Internet Links
The BBC is not responsible for the content of external sites.