New harvesting ban off Dorset after toxic oysters found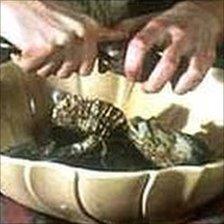 A ban on harvesting molluscs in Weymouth has been put in place after poisonous oysters were found.
The naturally-occurring toxins, found in a sample from The Fleet, can cause Diarrheic Shellfish Poisoning (DSP).
Anyone experiencing DSP symptoms, which include diarrhoea and vomiting, should consult their GP, Weymouth Port Health Authority said.
Last year, a month-long ban was put in place after poisonous oysters were pulled from the lagoon.
The restrictions were lifted after two consecutive samples of oysters tested negative for the toxins.
The current temporary harvesting ban does not apply to crustaceans like crabs and lobsters, or gastropods like whelks.
The situation will be monitored and the ban lifted as soon as possible, the port authority said.
Related Internet Links
The BBC is not responsible for the content of external sites.