Dorset man creates 1,600 matchstick models in 62 years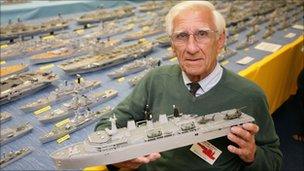 A Dorset man has spent 62 years building more than 400 ships and 1,200 aeroplanes out of matchsticks.
Philip Warren, 79, from Blandford, said he has copied every craft from every Royal Navy class using 6,500 wooden matchboxes and 650,000 matchsticks.
"They are all modern warships dating from the time since the end of the Second World War in 1945," he said.
A selection of 250 models from Mr Warren's naval fleet is on display at Nothe Fort in Weymouth until 30 August.
"It dates back to 1948 when I started to do this hobby," he told the BBC.
"It was obviously at the time just going to be one model and that would get it out of my system.
"It didn't quite work, and here we are 62 years later and 430 models later.
"It was always a question of 'I think I can do better than that with the next one' and so on.
"Quite unwittingly, over those years I've kept up to date with all the changes in naval design and construction so I've built a history of warships over the past 60 years."
Mr Warren has even created a model of HMS Daring, the Royal Navy's newest Type 45 Destroyer which was commissioned in July.
Related Internet Links
The BBC is not responsible for the content of external sites.