Weymouth Olympic roundabout names chosen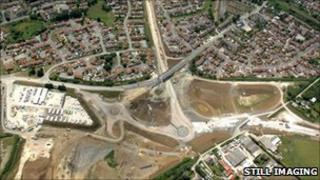 Names for four new roundabouts being built in Weymouth, Dorset, as part of an £87m relief road project ahead of the 2012 Olympics have been announced.
Jurassic, Bincombe Bump, Veasta and Harriers' roundabouts were chosen by Dorset County Council after 900 local people suggested 70 possible names.
Two of the new roundabouts are in the Littlemoor area and two at the southern end of Dorchester Road near Morrisons supermarket.
All four names have local connections.
'Unique heritage'
The Jurassic roundabout was the most popular name suggested. It refers to the rich geology of the nearby World Heritage Site coastline. Bincombe Bump roundabout is near to Iron Age burial mounds, or barrows, and near to Bincombe School.
Veasta roundabout is named after a mythical sea monster said to have been seen off the coast of Weymouth since first being "sighted" in 1457; and Harriers' roundabout refers to the marsh harrier birds seen at the nearby RSPB nature reserve at Lodmoor.
Peter Finney from Dorset County Council said: "We felt that it was important to reflect long-standing local themes in the roundabout names.
"I think we have succeeded in having four roundabouts that represent the unique heritage of Weymouth."
The roundabout name signs will now be ordered and will take six weeks to be made. They will be put in place at the last stages of construction of the road.
The Weymouth Relief Road will improve traffic links between Dorchester and Weymouth, which are hosting the Olympic sailing events with Portland.
It is scheduled to open in 2011 but may be ready by late 2010.