Gun raid Land Rover found submerged in Dorset lagoon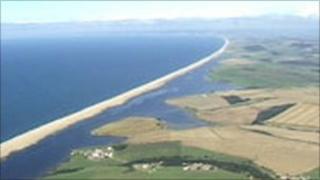 Police believe a Land Rover found submerged off Dorset, sparking a major search, had earlier been stolen from a house along with a number of firearms.
A Freelander was taken, along with the guns, from an address in St Leonard's Road, Weymouth, on Tuesday night.
The next morning three men were found sleeping in a barn in Wyke Regis and fled, leaving behind the stolen guns.
Ten minutes later the vehicle was found in The Fleet lagoon. Coastguards led a search but no-one was found.
A spokesman for Portland Coastguard said the Land Rover must have been travelling at a "phenomenal speed" when it entered the water due to how far it ended off shore.
The guns, which were licensed, are being forensically examined.
All the stolen weapons are thought to have been found and no shots were fired during the incident.