Mother's tribute to son found dead with father in Poole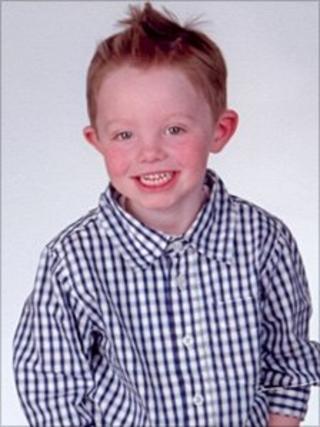 The mother of a six-year-old boy has spoken of her pain after he was found dead with his father in Dorset.
Chris Hall and his son, also called Chris, were found in Queens Road, Poole, on 18 August. Police are not looking for anyone over the deaths.
Rachel Wild, who had separated from Mr Hall, said her son was "her life" and wished she could "take his place".
More than a hundred mourners attended his funeral with Teddy bears carrying messages, at the family's request.
During the 45-minute service in Bournemouth, the Rev Jan Palmer read out Ms Wild's letter to her son whose seventh birthday would have been on 15 September.
Ms Wild contacted police when she could not raise anyone in the house and officers found the bodies.
Fireman ambition
Paying tribute to her son she said: "No words can express the pain I am feeling now and will feel each day for the rest of my life.
"You were my life, you filled my time with fun, smiles and plenty of love and kisses and I am going to miss this so much.
"I have a large hole inside me now which I will never be able to fill with anything again.
"I will never see you grow up and become a fireman as you wanted to be, neither will I see you get married or have your own children.
"I want to take your place, so you can live and enjoy a long and fulfilled adventurous life, but this can't happen and I miss you all the time."
The family has asked anyone wishing to give donations to send them to the Juvenile Diabetes Research Fund.
Post-mortem examinations on Mr Hall and his son proved inconclusive and further tests will be carried out.
Neighbour and friend Phil Haley, 38, said Mr Hall had been incredibly upset by his split with Ms Wild.
He said he had spoken about being "under great stress" and about "parts of his life being taken away".