Hurt man rescued in Corfe Castle fall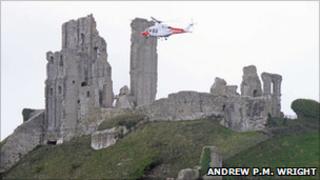 A man had to be rescued from castle ruins in Dorset when he slipped and fell fracturing his ankle.
The 23-year-old was trying to get down from Corfe Castle when he slipped down on Monday afternoon.
The location was not accessible to an ambulance and the coastguard helicopter was unable to safely winch the man.
Rescue officers on the ground managed to place the casualty in a cliff rescue stretcher and carried him to a waiting ambulance.
He was taken to hospital for treatment on his ankle.