Susan Hampshire announced as Dorset HIV charity patron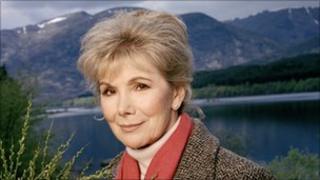 Actress Susan Hampshire OBE has been named as a patron of a local charity.
Body Positive Dorset, which supports people in the county living with HIV, called the star's support an "honour".
Charity manager Richard Erven said: "She is an incredibly sensitive person who is exceedingly generous with her time in support of good causes."
The award-winning actress, who lives in Poole, has been invited to a service at St Stephen's Church, Bournemouth, for World Aids Day in December.
Ms Hampshire, 73, won three American Emmy awards in the 1970s for her roles in The Forsyte Saga, The First Churchills and Vanity Fair.
More recently she starred in the BBC TV series Monarch of the Glen.