Dorset councils set for new joint chief executive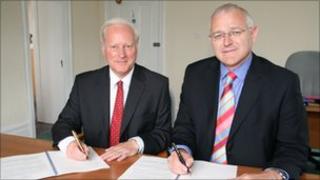 Two council bosses will find out later which one has been given the job of joint chief executive after two councils decided to share services.
The heads of Christchurch and East Dorset, Mike Turvey and David McIntosh, were interviewed last week.
The move is set to save about £100,000 a year while other senior management cuts as part of the merger will save a further £200,000 a year.
Councillors will meet later to confirm who has the new top job.
The position was ring-fenced to to current post holders in a bid to save recruitment costs, the councils said.
The decision will be made public on Tuesday.
The unsuccessful candidate will leave their job.
West Dorset and Weymouth and Portland councils have also announced plans to merge services to save £8.5m.