Five arrested after eight puppies stolen in Dorset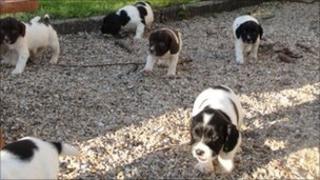 Five people have been arrested and two puppies recovered after a litter of eight was stolen from the back garden of a house in Dorset.
The English springer spaniel puppies were taken from Jennie and Rupert Tory's home in Winterborne Whitechurch, near Blandford Forum, on 11 September.
Three men and two women from Parkstone in Poole were arrested after the puppies were found following a tip-off.
Six of the eight six-week-old puppies are still missing.
Thieves broke in to a kennel in the early evening, loaded up the puppies and drove off.
Reunited with mother
A police spokeswoman said: "As a result of information received from a member of the public, Dorset Police officers have recovered two of the puppies reported missing from Winterborne Whitechurch.
"The puppies have been returned to their owner and reunited with their mother.
"Six puppies - a mixture of black and white and liver and white dogs and bitches - remain missing."
She said the five people arrested were helping police with their inquiries.
Mr and Mrs Tory have offered a £1,000 reward for the safe return of the whole litter, or £200 for each puppy.
Mr Tory said the thieves ripped off the side of the kennel, loaded the puppies into a box, took them round to the front of the house and drove off with them.
All pups have individual markings and are docked.
Anyone with information is asked to contact Dorset Police.