Council's call for calm to drivers over Olympic roads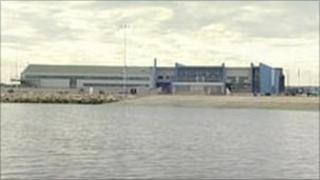 A council has issued a call for calm to drivers after a spate of verbal attacks on road maintenance staff carrying out work ahead of the 2012 Olympics.
About 200 improvements are being made across Weymouth and Portland, which are hosting the sailing events.
A block of wood was thrown at workmen on Ferry Bridge on Wednesday and reports of swearing, shouting and rude hand gestures to staff have increased.
Dorset County Council has urged people to contact its customer services team.
Several road schemes are set to get under way in Weymouth at the same time over the Autumn.
'Understand frustration'
Dorset will play host to 400 international athletes at the 2012 Olympic and Paralympic Games.
Sailing events for the games are to be held at the new-look Weymouth and Portland National Sailing Academy at Osprey Quay
Andy Ackerman, head of highways for Dorset County Council, said Weymouth and Portland would see roughly 20 years of investment carried out over a year.
"Swearing, shouting and rude gestures towards our workers are increasing, and while we understand residents' frustration, this is being directed at the wrong people.
"If you want to understand what work is taking place and why, we are on the end of a phone or email."
He also encouraged people to check the council's online project blog for up-to-date information.
"The county council is trying to make the most of the money available as a result of the borough hosting the 2012 sailing competition, as there will probably be very little opportunity to invest in the road network in the future," he added.