Trees 'blocking seaview' in Sandbanks damaged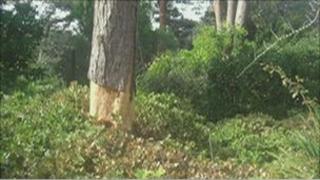 More trees have been deliberately damaged in the exclusive Sandbanks peninsula in Dorset in order to clear the way for better sea views.
Poole council condemned the practice. It says it happens on a regular basis because penalties are not tough enough.
It said offenders are prepared to risk a fine of up to £20,000 to profit from a sea view or extra development space.
In the past week, five 80-year-old pine trees on land in Banks Road being sold for development were targeted.
The bark on them had been deliberately cut - a practice known girdling or ring barking - which eventually starves the tree and kills it.
All five trees are Corsican pines protected by tree preservation orders.
A spokesman for the council said herbicide had also been used on the trees and had killed off vegetation around them.
Barrington Homes, which is selling the land, refused to comment.