Bournemouth council starts Imax building legal bid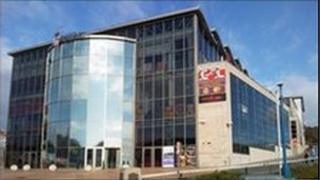 A council has started proceedings to submit a compulsory purchase order to develop an under used seafront venue.
Bournemouth council wants to demolish the former Imax cinema, criticised for blocking views of the sea, and replace it with a new tourist attraction.
It could be transformed into tropical gardens, a water park or arts centre.
The former Imax cinema opened in 2002 but closed three years later after problems. Only three restaurants still operate inside.
Butterfly farm
The borough council bought the building from long-leaseholders Nilgosc for about £7m in February.
One firm, Sheridan Millennium Ltd, holds a 150-year lease to operate the cinema and says it does not want to vacate the building.
The council said that an agreement to secure the remaining lease had not been reached so far.
Councillor John Beesley, deputy council leader, said: "We are still in negotiations... and are confident that we will very soon come to an agreement to secure the lease.
"In the meantime, as a fallback option and a way of protecting our interests, we have started proceedings to submit a compulsory purchase order.
"As soon as we have this lease we can concentrate on finding a developer to create the right facility and building for the site."
Compulsory purchase powers can be used by a local authority to obtain land for redevelopment when the owner does not wish to sell their interest.
About 3,500 people took part in a public consultation exercise to give their views on the future of the site, which would be a year-round attraction.
Options which were ruled out included a competition-size swimming pool, ice rink, butterfly farm and plans to reopen it as a cinema.