Cinema for £35m Bournemouth Pavilion Gardens revamp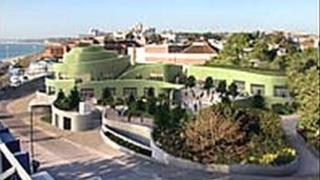 A nine-screen cinema complex could replace a controversial proposal for a casino in Bournemouth, the developer behind the project has revealed.
The original £35m Bournemouth Pavilion Gardens scheme also included a landmark building and restaurants.
Developer Trevor Osborne said the Odeon Cinema in Westover Road had agreed to relocate to the site for the casino.
Councillors will discuss his new plan, involving the 2,000-seater cinema, at a cabinet meeting on 13 October.
Public opinion
Mr Osborn said: "Times have changed radically since we first announced our aspirations for the site.
"In those years spending behaviour has changed dramatically and casinos have been among those hit by the recession.
"By relocating the cinema our proposals will free up key space in Westover Road for further improvements."
Under the new plan, the landmark building will also be redesigned.
He added that the cinema will be located below ground "so as not to impact on the building's design".
"This won't be a bland box with no windows - it will be a landmark building representing quality architecture," said Mr Osborn.
He also plans to hold a public meeting, if the revised proposal is given the go-ahead.
The Grade II Listed Bournemouth Pavilion will also be restored as part of the project featuring rooftop gardens with sea views.