Man killed Bournemouth mother in front of child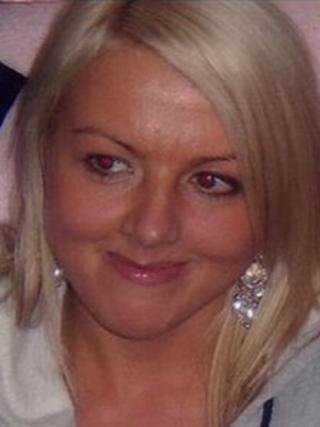 A man stabbed his partner to death in front of their three-year-old daughter and threw her out of a second-floor window of a flat, a court heard.
Katarzyna Ryba, 26, of Bournemouth, Dorset, sought protection from the police after Piotr Zasada had previously been violent towards her.
The prosecution said he killed Ms Ryba, who had a relationship with an officer, out of "jealousy" in October 2009.
Mr Zasada, aged 33, of Norwich Road, Bournemouth, denies murder.
Winchester Crown Court heard the courts had issued a non-molestation order against him preventing him from being in contact with Ms Ryba.
As Ms Ryba, known as Kasha, sought help from Dorset Police, she became close to an officer assigned to her case, Pc Richard Allen.
Anthony Donne QC, prosecuting, told the court that Mr Zasada, murdered Ms Ryba out of "anger and jealousy" although he said it was not clear whether he knew she was developing an "association" with a police officer.
Eight fatal wounds
He said that on 1 October last year, Ms Ryba, a Polish national who worked as a waitress, had been staying at a friend's house in April Court, Wellington Road, Bournemouth.
Pc Allen had been to see her and the pair engaged in sexual activity in one of the bedrooms, the court heard.
An hour and half after the officer left bus driver Mr Zasada, also a Polish national, turned up and began attacking her.
Their daughter Michelle and Grazyna Karbownik, the mother of Ms Ryba's friend, witnessed the attack, the jury heard.
Ms Ryba suffered eight potentially fatal stab wounds and 18 slashes including defence wounds to her arms.
Mr Donne said that when Ms Karbownik went to a neighbour's flat for help, Mr Zasada threw Ms Ryba out of the window and she landed in the car park below.
He then sent text messages to his friends saying that he had killed Ms Ryba and that he intended to kill himself, the court heard.
Police found him in his car having taken some medication and with superficial slash wounds to his wrists, Mr Donne said.
The trial continues.