Twin Sails Bridge construction begins in Poole Harbour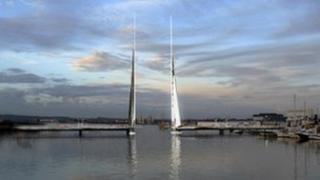 Contractors have begun installing the supports for a new landmark bridge in Poole Harbour, Dorset.
Project contractor Hochtief has started work on the six supports for the Twin Sails Bridge, which is due to open in early 2012.
The structures will support the bridge deck and twin sails lifting sections, which will be built in 2011.
The £37m bridge will span Backwater Channel in Holes Bay between Hamworthy and Poole town centre.
Iconic image
Jim Bright, strategic director for Borough of Poole, said: "By this time next year, we will be looking forward to the exciting prospect of our first tests of the twin sails lifting leaves that will become an iconic image of Poole."
Preparations for the project began in May. The installation of the bridge supports mark the start of the main construction phase.
The council said work on five of the supports will begin this year, while the final support will not be installed until June 2011 so marine traffic can still access Holes Bay through a temporary navigation channel.