Dogs on lead rule for Stanpit Marsh nature reserve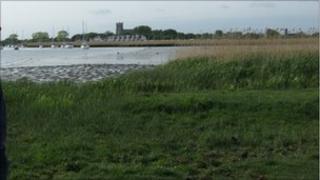 A new order banning dogs from running freely has been introduced at a nature reserve in Christchurch.
From October all dogs will have to be kept on a short lead when they are being walked on Stanpit Marsh.
The council said the reserve is home to many wildlife species, some of which are threatened and endangered.
It said studies had shown that dogs were an important factor in the disturbance to wildlife at the marsh. The order will apply all year round.
A majority of people who responded to a public consultation on the plan were in favour of it.
Dogs must now be kept on a lead no longer than 3m (10ft) at all times while on the reserve, which is a Site of Special Scientific Interest.
Councillor Sally Derham Wilkes, chairman of the council's community services committee, said: "Most dog owners are considerate when visiting Stanpit Marsh but they may not be aware that dogs running off the lead can disturb wildlife.
"We are asking people to keep dogs on leads when on the nature reserve itself, but Stanpit recreation ground is unaffected by the new control order and dogs may still run freely off a lead on this adjoining site."
Christchurch Borough Council said studies had showed that feeding and roosting birds in particular can be affected by recreational activities.