Hundreds attend Dorset Trooper Andrew Howarth's funeral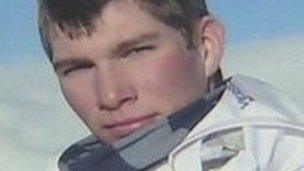 More than 1,000 people have attended the funeral of a 20-year-old soldier from Dorset killed in Afghanistan.
Trooper Andrew Howarth, of the Queen's Royal Lancers, died alongside Sgt Andrew Jones in a bomb blast while on patrol in Lashkar Gah on 18 September.
Trooper Howarth, from Wimborne, was the third generation of his family to serve with the regiment.
More than 700 mourners filled Wimborne Minster for the service while more stood outside, listening on speakers.
The Dorset town came to a standstill, and those who had gathered broke out in spontaneous applause as Trooper Howarth's coffin was driven to the service, attended by his parents John and Sarah, and elder brother Marcus.
The service was led by the rector of Wimborne Minster, the Reverend Canon John Holbrook, and Army padre Kevin White.
Mr Holbrook said that because Trooper Howarth had attended Queen Elizabeth's School in Wimborne, he knew the minster well and "loved it and visited it often".
"And just before Christmas, before he went on deployment, he asked if he might be baptised.
"My colleague, Thelma, baptised him. Clearly he drew strength from Christian faith as he was preparing to go out to Afghanistan.
"That same faith that we shall need to draw on as we mourn him."
Earlier, his mother Sarah said: "His smile just lit up the room. He was just so much fun, just wanted to do everything he could and he loved life.
"He was just beautiful, from top to tail."
After attending Queen Elizabeth's School, Trooper Howarth joined the Army in 2007.
His commanding officer, Lt Col Martin Todd, earlier described him as the "perfect reconnaissance soldier: quick-witted, physically robust and as skilled dismounted as he was on vehicles of all types".
Trooper Howarth and Sgt Jones, from the Royal Engineers, were travelling in a Jackal armoured vehicle which was targeted by an insurgent bomb.
Related Internet Links
The BBC is not responsible for the content of external sites.