Benefits reform call by patient who 'lived too long'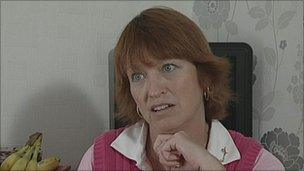 A terminally ill woman who said she was told she had "lived too long" to keep receiving her benefits said she wants the application system made easier.
Pauline Polley, from Bournemouth, was diagnosed with cancer in 2006 and has 15 tumours on her liver.
In January she said she was told that because she was still alive, she was no longer considered terminally ill.
The Department for Work and Pensions (DWP) said she would get benefits but had to reapply every three years.
Mrs Polley said: "I was told that my oncologist's letter was not sufficient evidence to prove my disease and my prognosis, which I was very angry at."
The DWP said: "We want to reassure Mrs Polley that her benefits won't just stop in 2011.
"When someone claims benefits because they are terminally ill we process the claim quickly and give them the money for three years.
"If they still need benefits after three years we will renew their claim."
Mrs Polley said the process of claiming benefits for terminally ill patients, who do not know how much time they have left, is still too complicated.
She has been undergoing treatment for the past four years, which has so far controlled the tumours and kept her alive.
However, she said the application processes for different benefits had been taking up too much of the valuable time she has left.
Mrs Polley said: "I treat every day as a separate day now. I tend to book activities in the future, a couple of weeks in the future, I can't do any longer than that. I just make every day worthwhile."
Duleep Allirajah, from Macmillan Cancer Support, said: "Sadly this isn't an isolated case.
"We've heard from our network of benefit advisors and from our helpline a steady stream of real horror stories about terminally ill people who are claiming benefits.
"They're already reeling from the fact they've been told they have a terminal diagnosis, and it's huge strain on them having to cope with that.
"They really don't need additional stress of having to navigate a fairly impenetrable benefits system. It's unfair and unnecessary."
Related Internet Links
The BBC is not responsible for the content of external sites.