Weymouth and Portland bans dogs in play and sport areas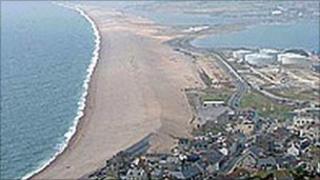 Dogs have been banned from children's play areas and sports pitches in parts of Dorset after nearly 100 attacks in the past year.
Weymouth and Portland Borough Council will also fine owners £75 if their dogs are caught as part of tougher controls.
Councillor Ian James said he believed the whole community would benefit from the new rules.
"We're just looking after the health and welfare of the general population," he said.
The rules also mean dogs will have to be on leads at all times in allotments and at crematoriums.
However, rules for a section of beach at Preston have been relaxed, with dogs now allowed off their leads all year round.
"There were 96 dog attacks in Weymouth and Portland last year," Mr James said.
"That's not just dog on human, that's dog on dog, all types of dog attacks."
He added it was the dog owners, not the animals themselves, that were to blame for the attacks.
He said many people wanted the ban due to dog mess in play areas but added the new rules were also "about the wider community safety".
Anyone caught breaching the new rules will have to pay a £75 fixed penalty notice.