Man jailed for murdering Bournemouth waitress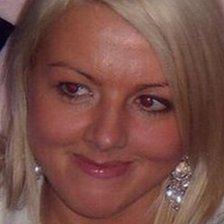 A man who stabbed his ex-girlfriend and threw her out of a second-floor window in front of their young daughter has been jailed for life.
Piotr Zasada, 33, killed Katarzyna Ryba, 26, in Bournemouth, Dorset, over her relationship with a policeman in October 2009.
Polish-born Zasada had denied murder but changed his plea to guilty at Winchester Crown Court on Friday.
Judge Guy Boney QC said Zasada would serve at least 14 years and 62 days.
Last week, the court heard Ms Ryba, a waitress who was also from Poland, was involved with Pc Richard Allen, who worked on her case, after she complained about Zasada's violence.
Anthony Donne QC, prosecuting, had told a jury that Zasada murdered Ms Ryba out of "anger and jealousy".
Zasada, of Norwich Road, Bournemouth, went to the flat his estranged girlfriend was staying in, in April Court, Wellington Road, armed with two kitchen knives.
In front of the couple's three-year-old daughter, he went into a bedroom and stabbed Ms Ryba on 1 October 2009.
He then threw Ms Ryba out of a second floor window on to the car park below.
Zasada was found by police sitting in his car having taken some medication and with superficial slash wounds to his wrists.
The court heard that the couple's young daughter had subsequently needed treatment from a child psychologist.
During sentencing, Judge Boney told Zasada that he was "not well-equipped psychologically to handle sexual rejection".
The police watchdog, the Independent Police Complaints Commission (IPCC), has started an investigation, because police contact had been made before her murder.
Ms Ryba's most recent call was on 27 September, five days before she was killed.
It is likely Ms Ryba's relationship with Pc Allen will form part of the inquiry.
Related Internet Links
The BBC is not responsible for the content of external sites.