Spending Review: New hospital boss in £5m deficit vow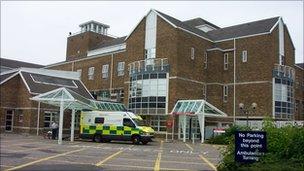 The new chief executive of a Dorset hospital trust said plans to pay off a £5m deficit are going well.
Jean O'Callaghan took over Dorset County Hospital Trust with savings of £20m needed over the next four years.
The health budget may be protected from the Spending Review, but NHS trusts have still to make savings.
The cuts mean the hospital has already reduced the number of beds, left 60 posts vacant and is thought to face at least a further 140 job losses.
The trust said it has already turned a predicted £17m deficit for 2011/12 into a "break even" figure.
The new chief executive believes any job losses can be achieved without redundancies.
She said: "I think when you have such a large number of staff - around 3,000 - then you do have natural turnover anyway, that really is sufficient.
"We can also look forward and look at things like when people are going to be retiring and we can plan that in advance."
She said key skilled positions were still being replaced but every role was being looked at.
Her appointment comes after the trust was recently forced to defend paying its interim chief executive £2,557 a day.
The annual report showed Derek Smith was paid £248,041 for 97 days work plus £19,539 in travel and food expenses.
Ms O'Callaghan, whose job was advertised with an annual salary of £140,000, said she wanted the hospital to be more transparent in future.
"Board meetings will be held in public... there will be good knowledge of what's happening in the hospital.
"Hospitals never get everything right and you can always find things to improve on."
Related Internet Links
The BBC is not responsible for the content of external sites.