Dorset poet pens Royal Marines dedication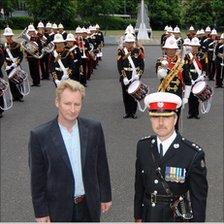 A Dorset poet has written the words for a major piece of music to commemorate Royal Marines killed on active service.
Ben Kaye, from near Sturminster Newton, was commissioned to produce the work by the Royal Marines Charitable Trust.
The piece, called Eternal Voices, will be narrated by Sir Trevor McDonald when it is performed for the first time at Exeter Cathedral in November.
The music will be played by The Band of Her Majesty's Royal Marines and sung by the Exeter Festival Chorus.
Mr Kaye said part of his inspiration was speaking to bereaved families, including that of John Thornton, from Ferndown, who was killed aged 22 in Afghanistan, in 2008.
He also met some of the most badly wounded British servicemen at Hasler Company, a special unit set up in Plymouth in 2009 to help Royal Marines with their recovery.
"I think it's very well worth re-focussing people's attention to really look behind the news headlines," Mr Kaye said.
"Despite our best intentions, our constant exposure to military injuries and fatalities in the news headlines can almost inoculate us against the horrors experienced daily by our troops and their families."
He added that the final words of the work would be taken from news coverage on the day of the performance itself, which would raise money for Royal Marines charities.
Related Internet Links
The BBC is not responsible for the content of external sites.