Bournemouth pubs and bars 'against 24-7 licensing levy'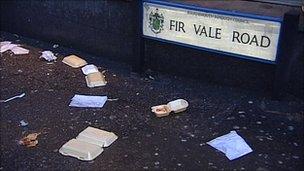 Some Bournemouth pub landlords with 24-hour licences have hit back at suggestions they should be charged extra for policing and street cleaning.
Home Secretary Theresa May has said the government would allow councils to charge more for late night licences.
Cleaning the streets of Bournemouth, which hosts about 20,000 revellers each Saturday, costs the council £3m a year.
But landlords like Michael Cooke say enough money has already been raised through expensive business rates.
"We already pay quite heavy rates," Mr Cooke, who runs the independent Camel Bar, said.
"All of the businesses do already.
"There's substantial amounts of money being brought in all the time for the council to spend.
"Extra levies is an extra burden to small premises, like this one, especially."
Licensing laws were liberalised in 2005 and government figures suggest the number of pubs, clubs and supermarkets in England and Wales with 24-hour alcohol licences has increased to a record level.
Bournemouth is in the top 10 local authorities for high numbers of premises with 24-hour licences.
A Dorset Police report last year found Bournemouth town centre's night-time economy was the main contributor to levels of violent crime in the Bournemouth and Poole conurbation.
Clive Chamberlain, chair of Dorset Police Federation, said: "We have to match resources to demand and the demand has grown over a much longer period, since 24-7 licensing.
"I'm told by colleagues that at five and six o'clock in the morning, they're still arresting drunks.
"Previously, it probably would have been until one or two o'clock in the morning."
Related Internet Links
The BBC is not responsible for the content of external sites.