Spending Review: Dorset 'funeral' over public cuts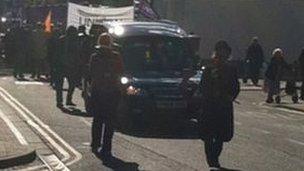 A coffin and hearse have been driven through the streets of a Dorset town in protest at the level of public service cuts in the Spending Review.
About 100 workers, union activists and campaign groups took part in the "funeral procession" through the streets of Dorchester.
They said it marked "the final nail in the coffin" for Dorset public services.
Meanwhile Chancellor George Osborne said money would go towards Weymouth's transport scheme.
The town's transport network is being upgraded ahead of the 2012 Olympics where the sailing events will be held in Weymouth and Portland.
The Spending Review is the biggest programme of public cuts attempted by a UK government since World War II.
Mr Osborne said economic growth and reform were at the heart of his plans and that "those with the most should pay the most".
Many of the marchers in Dorchester were dressed in funeral attire and carrying banners.
The hearse bore a coffin with posters in the window stating: "Kiss goodbye to the public sector".
Unison regional manager, Lisa Youlton, who took part, said: "In the South West particularly, these cuts will hit very, very hard.
"We are going to have people lacking the services they need, which are completely vital in these communities.
"A double whammy when these people are then out of work as well. These aren't cuts - this is a massacre."
Related Internet Links
The BBC is not responsible for the content of external sites.