Spending Review: Dorset council job cuts 'inevitable'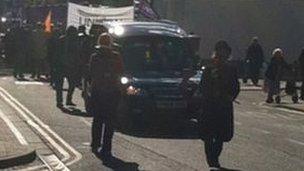 Councils in Dorset have reacted to the Spending Review's 7% a year cuts with one saying job losses are "inevitable".
Dorset County Council said it would have to find £48.6m savings over three years, or 17% of its current budget, including a reduction in staff.
Bournemouth council said it expected to be receiving £22m a year less from the government by 2014-15 - a 25% cut.
On Wednesday, the government unveiled the UK's biggest cuts in decades.
Chancellor George Osborne said the four-year cuts were guided by fairness, reform and growth.
But deputy leader of Bournemouth Borough Council John Beesley said the results of the Spending Review were "disappointing for Bournemouth" and that the government had "chosen to penalise us even further".
He said the next few years would "undoubtedly be very testing times".
"Our budget projections for 2011/12 onwards have been based on a 25% reduction spread over four years - a dire forecast in itself - and today's announcement suggests that the situation is even worse than that, with a disproportionate burden being passed to a local level."
Meanwhile the county council said it still had a funding gap of £28m after identifying potential savings of £21m over three years, adding job cuts were "inevitable".
The council cabinet will consider the spending plans in more detail on 3 November.
Leader of Dorset County Council Angus Campbell said: "Although we won't know our final government grant total until January, we currently anticipate that we will have to find £48.6 million savings (17% of our budget) - or more - over the next three years.
"Although we'll undoubtedly have some difficult decisions to make over the next few months, our first priority is to maintain essential services and minimise service disruption."
Meanwhile, Dorset Police said it would not be able to announce any potential cuts until its budget was allocated in December and proposals had been put before the police authority in February.
"Whatever the outcome we are preparing to protect our front-line services as much as possible," Assistant Chief Constable Mike Glanville said.
On Wednesday, Mr Osborne said money would still go towards Weymouth's transport scheme, ahead of the 2012 Olympics where the sailing events will be held in Weymouth and Portland.
Outlining the total £81bn spending cuts package, Mr Osborne vowed to restore "sanity to our public finances and stability to our economy".
As he unveiled his plans, a coffin and hearse were driven through the streets of Dorchester in protest.
Related Internet Links
The BBC is not responsible for the content of external sites.