Bournemouth CCTV cashpoint punch man jailed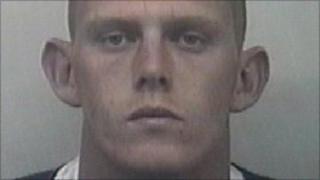 A "brazen" attacker who was caught on CCTV flooring a man at a cash machine in one punch has been jailed.
The 36-year-old victim was on his way to work when he stopped at the machine outside the Barclays Bank in Wimborne Road, Winton, Bournemouth on 24 June.
Steven Whyte punched him and demanded his cashcard PIN number but fled when the man refused to give his number.
Whyte, 23, of Talbot Avenue, Bournemouth, admitted robbery and was jailed for three years and one month.
The victim suffered a cut lip and bruising in the attack.
Police described the attack as "brazen, vicious and unprovoked".
Bournemouth Crown Court said Whyte's term was determined as he had been given a suspended sentence for a previous conviction.