Car rolls into sea off Sandbanks during 'toilet break'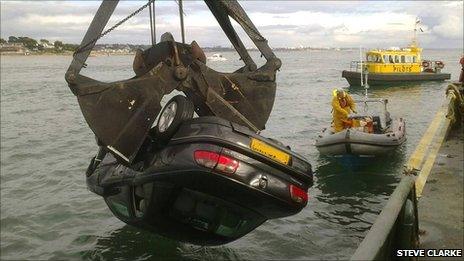 A driver caught short while waiting for a ferry returned to find his car had rolled into the sea in Dorset.
Recovery teams were called to Sandbanks, Poole, at 1100 BST when the black vehicle came off a slipway.
Poole Harbour Commissioners managed to lift the car out of the water two hours later with help from the RNLI.
Paul Singleton, from the commissioners, said: "Apparently he went to the toilet while he waited for the ferry and it rolled straight down into the water.
"It was a stroke of luck that we got there when we did. Luckily, no-one was inside at the time."
Related Internet Links
The BBC is not responsible for the content of external sites.