Paralysed Olympic hopeful from Poole in charity swim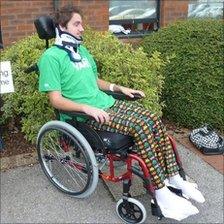 A Dorset swimmer partially paralysed in a diving accident is taking part in a sponsored swim to raise money for his wheelchair charity.
Ben Clark, 20, from Hamworthy, was hurt when he dived into a wave at Sandbanks, Poole, on 3 July.
He hit his head on a rock and broke his neck.
The lifeguard, who had hoped to swim in the 2012 Olympic Games, has now set his sights on the Paralympics. His family has organised the event on Saturday.
After the accident, surgeons at Southampton Hospital took bone from his hip to rebuild his spine.
Mr Clark is now recovering in the Duke of Cornwall spinal injuries unit at Salisbury District Hospital.
Despite initially being told it was unlikely he would ever move from the neck down again, he has regained some movement in his upper body and now swims again.
Mr Clark's aunt Allyson Rogers described it as "freak accident" and said: "He simply dived into a wave to cool down and hit his head on a rock, completely shattering his C5 vertebra and fracturing C6 and C7.
"A split second, life-changing moment."
Mr Clark has set up a charity, Chairs for Champions, to help fund specialist wheelchairs, for himself and others, to help increase fitness.
Ms Rogers added: "The progress he has made in just 16 weeks has been phenomenal and he is continuing to surprise the team at Salisbury looking after him.
"He continues to regain sense and some voluntary movement in his lower body and every day ends on a positive.
"Ben now has his sights set on swimming for Great Britain in the 2012 Paralympic Games - he already holds the unit record at Salisbury for 43 lengths in 20 minutes."
About 200 people have already signed up for the sponsored swim at Dolphin Leisure Centre in Poole on Saturday evening.
Related Internet Links
The BBC is not responsible for the content of external sites.