Imax ownership secured by Bournemouth council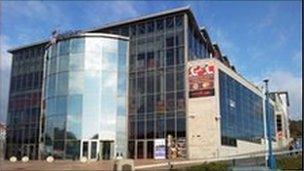 Council chiefs in Bournemouth have secured ownership of a controversial seafront development.
The authority wants to redevelop the Waterfront site which could be turned into a waterpark or arts centre.
The authority had secured all the leases at the site apart from the "eyesore" Imax building.
Councillors agreed a settlement for the lease on Tuesday night with work to demolish the building and redevelop the site likely to start next summer.
The Imax cinema opened in 2002 but closed three years later after problems. Only three restaurants still operate inside.
The borough council started proceedings to submit a compulsory purchase of the building earlier this month.
It bought it from long-leaseholders Nilgosc for about £7m in February.
However, one firm, Sheridan Millennium Ltd, which holds a 150-year lease to operate the cinema, said it did not want to vacate the building.
The lender behind Sheridan Millennium Ltd has since appointed a receiver over the lease after the firm was unable to pay outstanding rent and service charges.
Councillors met on Tuesday when they negotiated a deal to secure the lease.
Councillor John Beesley, cabinet member for resources, would not reveal the cost of buying the lease for "commercial reasons".
He added: "It is really good news to secure the site without using a compulsory purchase order, which has saved taxpayers money and time and effort.
"To acquire the Imax is the last part of the jigsaw and we can move forward and create exciting seafront development for the town."
The Imax building, which is close to the beach and pier, has been criticised for blocking coastal views.
About 3,500 people have taken part in a public consultation exercise to give their views on the future of the site, which would be a year-round attraction.
Related Internet Links
The BBC is not responsible for the content of external sites.