Payment withheld until Boscombe surf reef works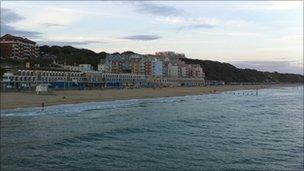 A council should not pay out any more money to the company behind Europe's first artificial surf reef until improvements work, a panel has advised.
The reef, which enhances the waves off Boscombe, Dorset, has been criticised for not working as well as it should.
A group was set up to develop a solution to the £3m reef's performance and to ensure Bournemouth council's financial interests were protected.
ASR Ltd has had a £150,000 payment withheld until it performs to standard.
The company said it needed the money to rectify the reef, at a cost of £155,000, and said it was keen to reach an agreement.
The reef - which ran over budget and suffered a series of delays - was created to improve surfing conditions using 55 sand-filled bags which are 225m (740ft) out to sea.
But it was deemed "sub-standard" by the council after a specialist report found it had not achieved all of its objectives.
The New Zealand-based creator denied the reef failed and said it was only one of the criteria - the wave lengths - which it had not met
The task force, made up of four councillors, agreed with ASR Ltd over a solution to improve the reef's performance, but still had doubts it would be successful.
If recommended at cabinet, four bags would be placed underwater against the base of the reef to create a "more gentle" slope and "better managed" wave.
Experts believe the effect would be that the ride length would be extended instead of the wave collapsing.
Task group chairman, councillor Ben Grower, said: "Whilst we are accepting the proposal is the best available solution to enhance performance, it's important to recognise that there can be no guarantees that it will fully achieve all performance criteria.
"We are not completely convinced that this will be the case and it is for this reason that the members are not recommending that further funds should be released at this stage."
Its report will be discussed by councillors when an overview and scrutiny committee meets on Tuesday, before plans go to cabinet on 17 November.
Related Internet Links
The BBC is not responsible for the content of external sites.